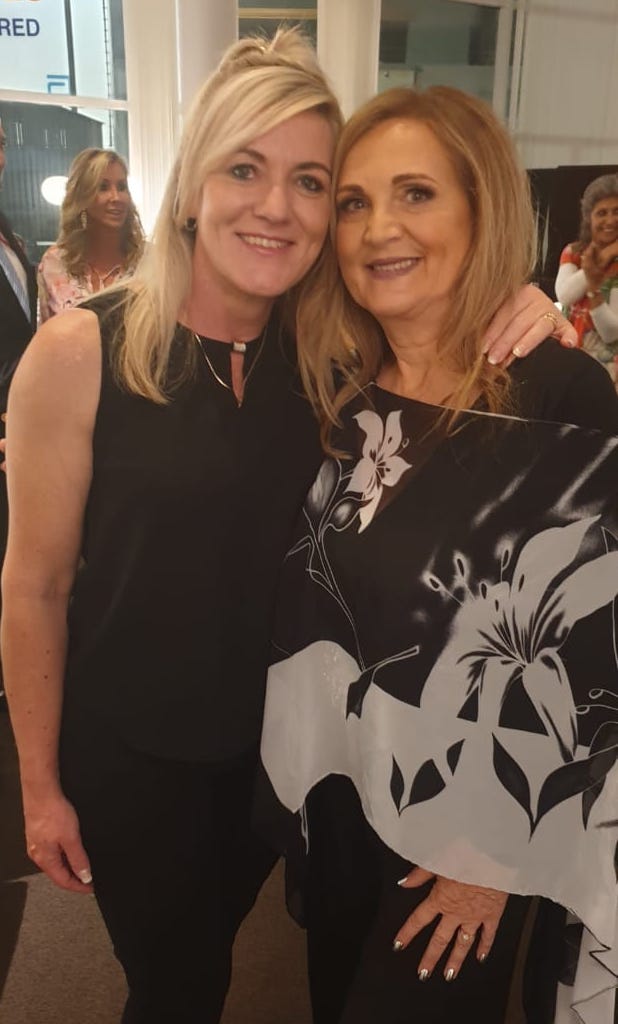 Jan Tana... We Look Good On You!
My intension in life has always been to help others look and feel their best. When I created Jan Tana's 35 years ago, my goal was to give everyone the Perfect Tan. If you want a beautiful Natural Looking Tan to enhance your appearance or a Dark Tan for a competition, Jan Tana is... The Winning Color!
I know I have reached my goal and I love being able to share my colorful world with you! Tanily Yours... Jan Tana
Wayne Price
President of Bodybuilding SA, IFBB
IFBB Provincial Champion
All Africa IFBB Bodybuilding Champion 1996
IFBB SA Bodybuilding Champion 1997
Gym owner and Personal Trainer (30 Years)
Michelle Price
International IFBB Judge
IFBB Provincial Champion
IFBB SA Body Fitness Champion 2011
IFBB Muscle Evolution Champion 2010
Gym owner and Personal Trainer (30 Years)
We are so proud to be the suppliers of the best international brand – Jan Tana. Working with David and Jan Tana has been amazing and their many year of research and experience with competition tan is seen worldwide.

Competing several years and understanding the importance of looking your best on stage, we understand working with the best product and people in the world is essential to provide the best tanning service to athletes in South Africa. After many weeks of dieting and months of training you do not want to neglect your tan or try to save money on your tan. Not having the perfect tan on competition day could influence your placing or end result.
We take our tanning service and Jan Tana product very serious and being the supplier in Africa, commit to not only provide the best international tanning product but also give you the best service possible.
All our agents are trained and use the original Jan Tana import products.
The new Jan Tana Natural tan is now available in South Africa. This amazing new product will help you look and feel special on a wedding, matric dance or long planned holiday.
Please contact us or any of our friendly agents if you have questions.
You can be your best when you use the best!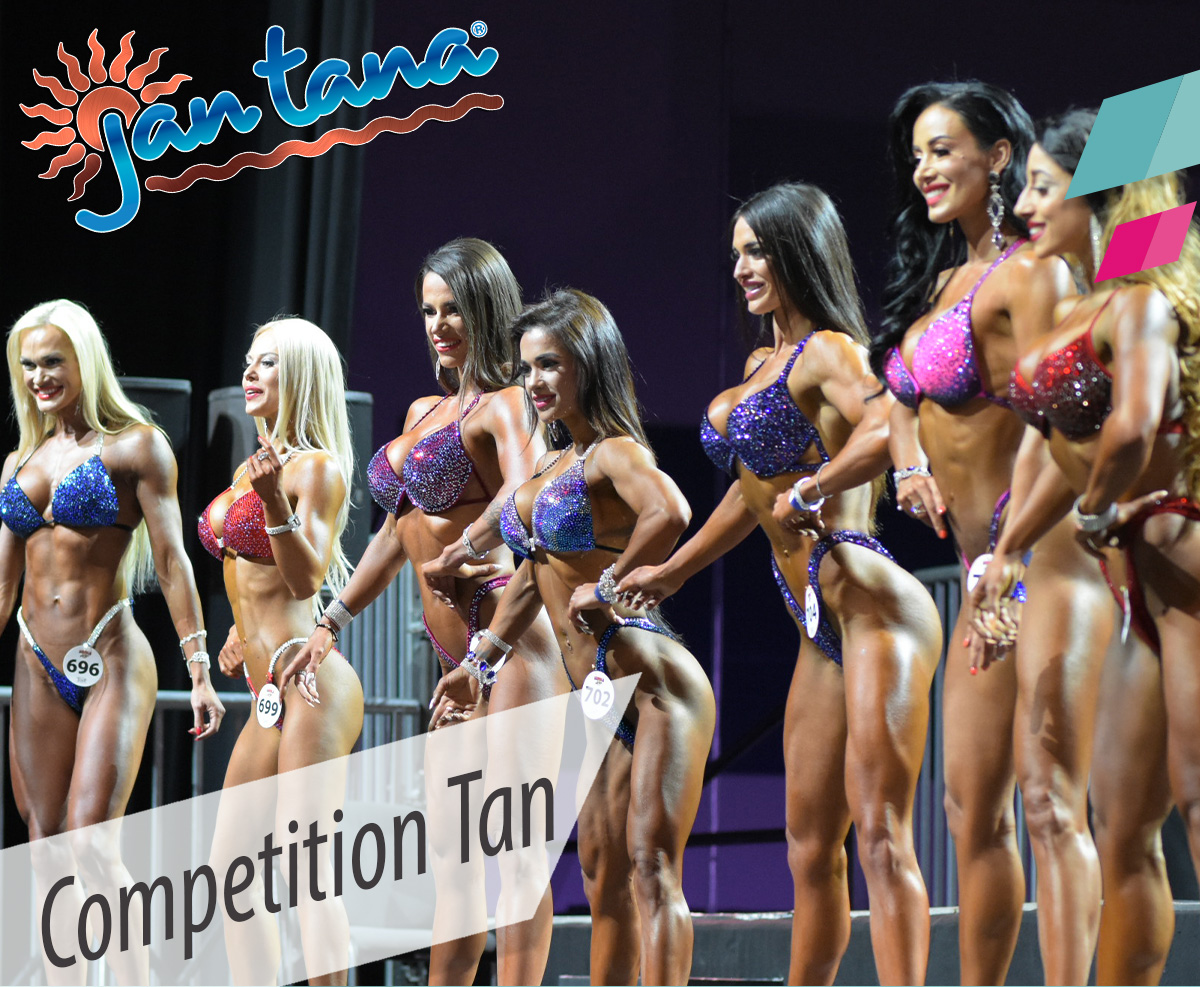 Product Description Skin prep
Exfoliate and prepare your skin for the best and even tan
Moisturiser - For smooth and even skin tone
Hi-Def Colour - Night before contest colour
Ultra 1 Colour – Day of contest colour
Green Away - Help prevent and remove green tint from skin
Glaze – Highlight and defines physique
Sponge – For easy application and reusable
THE WINNING TAN IN 5 STEPS | ONSITE TAN
STEP 1
EXFOLIATE your whole body every day for 3 days before your onsite Jan Tana base coat tan. Using the Jan Tana Skin prep will benefit the end result of your competition tan.The better you exfoliate and prepare your skin the better your tan will appear on stage

STEP 2
Applying the Green away before your first coat to adjust your PH level on your skin which can prevent any green tint. Use 30-60min before tanning.

STEP 3
HI-DEF COLOR – apply the night before show as a BASE TAN.

STEP 4
ULTRA 1, stage colour, final coat that should be applied 2 to 3 hours before going up on stage. Do not use night before going on stage only day of show. This tan can also be used as competition colour for darker skin tones on the day.

STEP 5
GLAZE, use glaze before entering the stage to define your physique and complete the winning tan. Avoid wearing clothes after applying glaze, apply glaze 15-30 min before going up on stage.
Competition Tan | Option one
Jan Tana Onsite Service Provider
When a Jan Tana agent is setup at the competition venue the night before and on the day to assist with tan. Book with the onsite Jan Tana Team for the best service the night before and on the day. We will stay for the last line up to ensure every Jan Tana athlete is ready and glazed before going on stage. Be ready to receive the
best service and a winning tan.
Cost R650 for tan, touch up and glaze
Competition Tan | Option two
Jan Tana Off site tanning at agent
When we are not the onsite service provider for a competition we can assist with tanning the night before and the morning of the competition but it will be at the agent's salon or business. This means we will not be with you at the venue of the competition and you will need your own "spray itself" tan kit to touch up and glaze. This is available to purchase at the agent.
Cost R650 for tan night before and the morning of the competition
Spray itself -
Ultra 1 on the daycolour :
Green Away:
Glaze:
Sponges (3), reusable:
Colour collection;
Competition Tan | Option three
Jan Tana Spray itself at home (bottle allows for 3 applications)
Hi – Def Colour (night before)
Ultra 1 on the day colour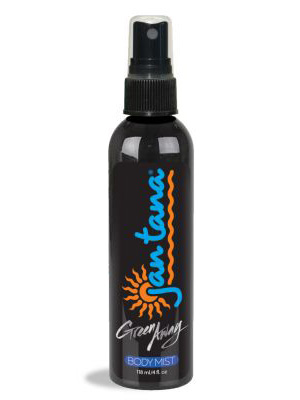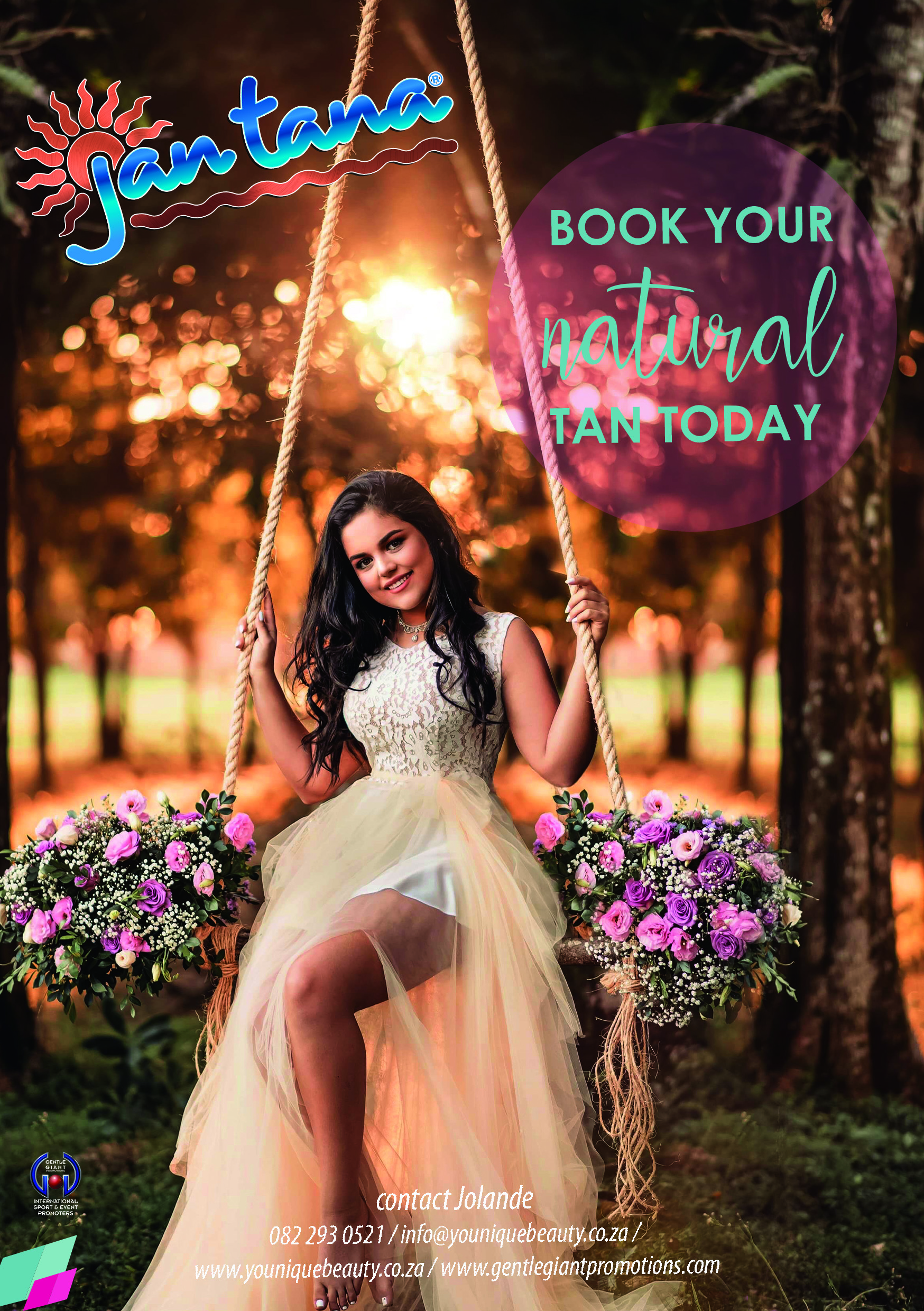 Suitable for :
Brides, matric dances, holiday, dance competitions and sensitive skins
THE PERFECT NATURAL TAN
3 EASY STEPS
Exfoliate and clean your skin from all cream, perfume, and deodorant.

Apply Jan Tana Natural Colour the night before. Do not shower.

Shower the next morning to wash excess colour of skin. Do not scrub.
Few tips:
Wear open shoes and loose dark clothes after you have tanned.

The colour will wash out and is easy to remove from materials.

The better you exfoliate the longer your tan will last.

The average time tan will last is 5 – 7 days.

The TAN will appear darker as the colour develop.

For Brides or for special events tan 2 days before the special day to ensure the tan is perfect after showering.

Apply or prolong tan with Natural Spray Itself if needed.
Tan at the Jan Tana Agent salon
Spray itself
(Three applications and sponge)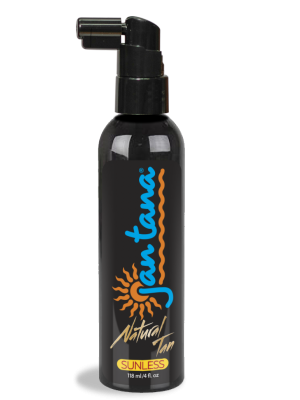 Competition tan Price List
Contact | HELPLINE: 087 095 1064
---